On Aug. 25, 2017, Hurricane Harvey landed on the Texas coast as a category 4 storm with maximum winds of 134 mph. But it wasn't the wind that did most of the damage in Texas' largest city of Houston—it was the water. Fueled by the highest ocean temperatures ever recorded in the Gulf of Mexico, the storm stalled over Houston and relentlessly lashed the area with 26-47 inches of rain from Aug. 25-29. Racking up $125 billion in damages, Harvey was the second-costliest hurricane in US history. By most other metrics, though, Harvey was a record-setting storm. During its 120-hour duration over 10,000 square miles, Harvey topped the standing rainfall record from June 1899 by 13.33 inches or 62%.
"I knew it was enormous—I just didn't know HOW enormous!"
As one of the 4.7 million Houstonians who white-knuckled our way through Harvey, I knew it was enormous—I just didn't know HOW enormous! News media predicted something like 12 inches of rainfall,
equivalent to the floods of 2015 and 2016.
Since my apartment hadn't flooded in those storms and there were no mandatory evacuation orders, I elected to stay put. Having just emerged from a bout of underemployment, I wasn't in the best economic shape to hit the trails. However, I did take the cheap precaution of moving my car to higher ground—a good call, since vehicles left in my complex's lot flooded.
Ironically, I'd initially landed in Houston in 2005 after evacuating saucer-shaped, below-sea-level New Orleans ahead of Hurricane Katrina. Katrina still holds the record as the costliest hurricane in US history. At first, I felt safer in Houston, which is above sea level and 60 miles inland from the Gulf of Mexico. But as time went on, I realized that Houston's rains could fall fast and furious on the flat landscape and turn streets into raging mini rivers. The city's sprawling mass of concrete-covered land—some of which had been wetlands, forests, and prairies—couldn't absorb stormwater runoff as it had in previous less-developed decades.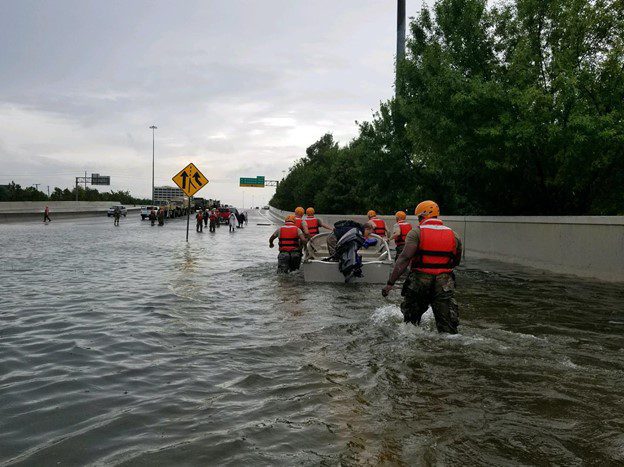 Texas Army National Guard – Assisting flood rescues associated with Hurricane Harvey, Aug. 27, 2017. Photo credit: Lt. Zachary West, Texas National Guard. Source:  https://nca2018.globalchange.gov/chapter/23/
A major scientific report made public in November of 2018 concluded that warming ocean temperatures likely played a crucial role in Harvey's record-demolishing rainfall.
Houston is prone to flooding due to its geography and poor land-management choices. However, a major scientific report made public in November of 2018 concluded that warming ocean temperatures likely played a crucial role in Harvey's record-demolishing rainfall.
The 1,656-page report, the second volume of the Fourth National Climate Assessment,  says that Harvey and other extreme weather events are climate change signals. Unless we act quickly to slash carbon emissions, the report warns, the warming trend will have increasingly dire effects on life in the US—and Texas, second only to California in population and importance to the US economy.
States the report: Texas "is vulnerable to increasing temperature, extreme precipitation and continued sea-level rise, particularly as infrastructure ages and populations shift to urban centers." Key takeaways from the report are that relative sea-level rise along the Texas Gulf Coast will be double the national average between now and 2100. The rising sea levels will make communities even more vulnerable to hurricane storm surges.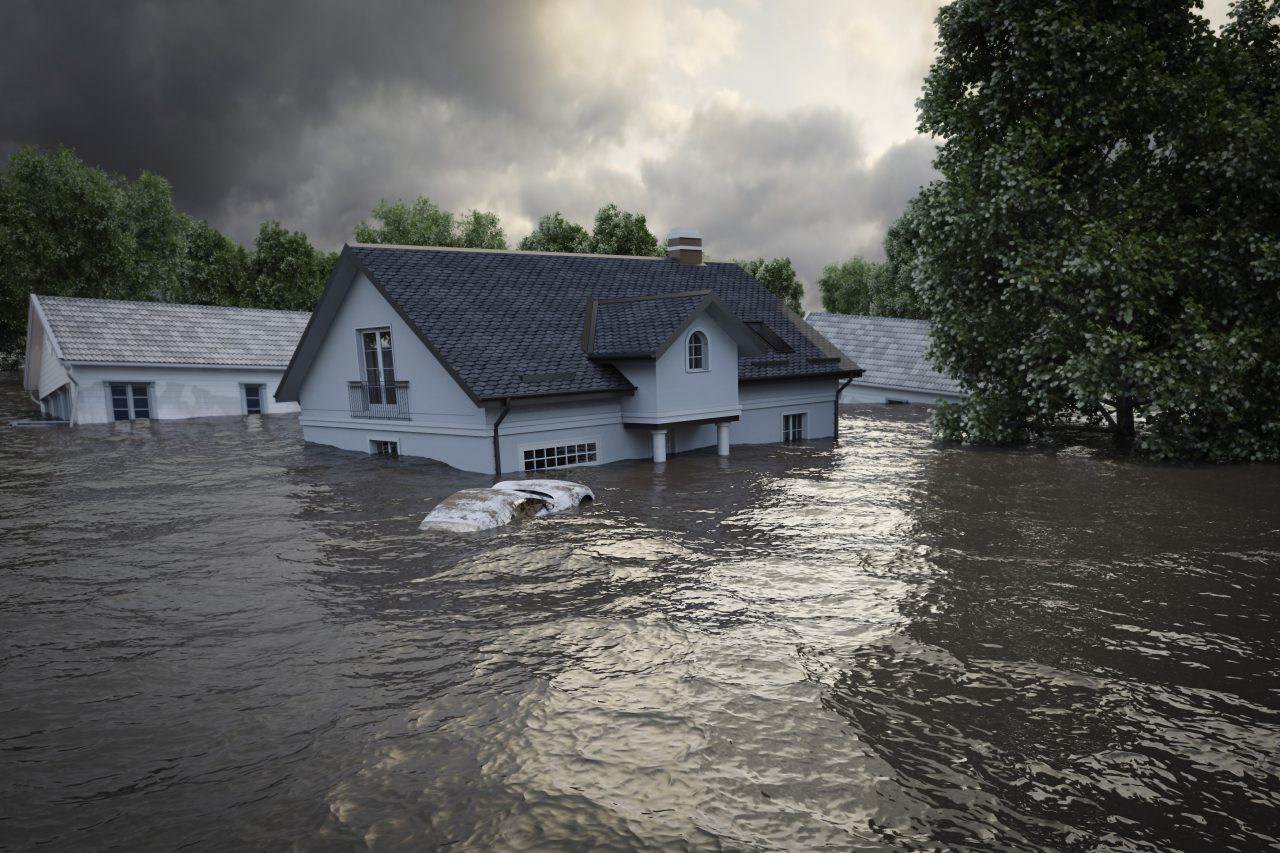 Monster storms like Harvey are expected to increase based on well-established relationships between humidity (water vapor in the air) and temperature. You'd expect a rise in hurricanes in a warming world since increased evaporation rates lead to higher levels of water vapor in the atmosphere. The increased humidity leads to more frequent and intense "extreme precipitation events."
In Houston, an "extreme precipitation event" doesn't even have to be tied to a hurricane. Remember those floods I mentioned back in 2015-16? These were triggered by random heavy rains. These days, Houstonians get nervous every time it rains for more than a couple of hours. It's not an ideal way to live. Although I've woven strong ties within the Houston community, I'm seriously considering moving within the next few years to a place that's less impacted by climate change.
Is there a solution to these "Extreme Precipitation Events?"
The air and ocean temperatures have slowly but steadily risen since the 1850s, most of the rise after 2000. It will take a lot of effort to put the brakes on this climate change train, but we've got to buckle down and get it done. We only have one planet.
If everyone works together, we can make significant strides toward curbing climate change. For instance, we can help rally companies and nations to curb CO2 emissions radically. Another way to mitigate climate change is through employing technology for good, such as deploying carbon capture and sequestration projects like WellPlanet's. And when you support WellPlanet Project, you can also enter a drawing to win one of 20 planet-friendly Teslas. Check here for details. Remember, collectively, we can help heal our one and only planet.